Morning Artstation viewers.
Wanted to give you a quick update about upcoming events and artworks I have planned.
As I mentioned in the last blog post, I have slowly been redesigning and visualizing my concepts I made as part of a team during the GGJ a fortnight ago. I have been working on the main character first, with the aim to find a shading style that I can replicate and finish in a short span of time.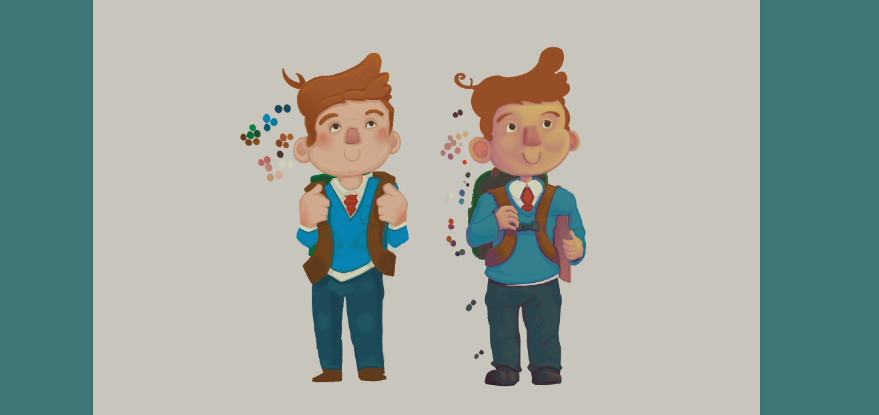 The character to the left is my first draft based on the drawing I sketched in the GGJ, on the right is the newly reworked design with more attention to detail and that all important new shading style. Still allot to do, next step is to flip the canvas to work out any inconsistencies.
The other point I wanted to share in this post, currently alongside this project, is that I am penning ideas to try and take part in Tranzfuser this year. This may be my last year I can enter so I wanted to give it a shot. I have an idea for a game, all I need now is to work out the concept with hopes to later then pitch to a potential team. Early stages yet, so not much to share. I'll update in a following blog post.
One minor thing is that this year I'm hoping to go to a few more conventions, a number of them have been marked on my calendar. I reckon it would do me some good to go out of my comfort zone and talk to industry and other artists like myself. I have still got some 200 business cards just gathering dust so any networking would be good networking. Additionally I am thinking of starting some commissions soon (though I need to wait for an update of an internship I applied for before I can proceed). Any news about the commissions will be posted towards the end of the month.
Alright then. I believe I have covered everything major I wanted to say, yep.
So Until the next blog post. DK